Our Sustainability Strategy
Our Sustainability Strategy is integral to our approach to business and aims to focus on the three foundations highlighted below. By collaborating with our internal and external stakeholders and integrating environmental and social governance factors into our decision making processes, whilst also retaining and attracting talent of the highest quality, we have the long-term aim of enhancing the company value and continuing to build on our strong reputation to become leaders in the SME segment of the market.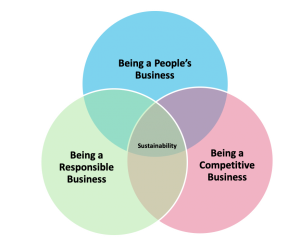 Our Foundations
Our Sustainable Business strategy is based upon three key foundations:
Being a People's Business
Being a Responsible Business
Being a Competitive Business
In the coming weeks, we are excited to share more of our strategy and the initiatives we plan to put in place to support our three foundations.
Find out more about the three core areas of our sustainability strategy in our brochure.
Sustainability Champion
As a part of Consilient Health's journey to become a Sustainable Business, we have appointed a Sustainability Champion to help us reach our goals. Karen Pulley has worked in the pharmaceutical industry for over 30 years and will be driving the Sustainable Business strategy.
Sustainability Updates
Keep up to date with our journey by having a look at our updates section which includes interviews with Sustainability experts and an insight into the steps we are taking to become a Sustainable Business,